The following article was published in the October 20, 2004 issue of Radio World, an IMAS publication, and is reproduced here with permission. Due to space considerations several photographs could not be included in the print version. Those photos and some additional text are included in this page (additional text in a darker font).

A vacation in Bermuda for radio people has always been a real vacation. The FM radio dial was all hiss except for four frequencies -- three broadcasters and a dead carrier for the island's emergency alerting system.
Well, all that's changing now. The government of Bermuda is accepting applications for new FM radio stations for the first time in 20 years, and the Bermudan radio dial will soon be filled with many new voices.
The first of these new voices commenced regular operation on Monday, July 5th.
For its first 24 hours, "Hott1075" played a specially prepared mix of Nelly's Hot In Here, with numerous heavily-produced drops intermixed. As these first hours went by, excitement on the island built to a fever pitch. Station managers were driving a mini-van wrapped with station graphics around the island, and many people passed by the new studio location with arms waving and horns honking.
At noon on July 6th, Hott1075's first live programming began with an hour-long premier broadcast, introducing the station's staff to Bermuda, taking phone calls on the air, and launching the station's first promotion. Dubbed "Commit to Switch", this promotion promised a chance at $1,075.00 for each person submitting a coupon promising to switch to the new Hott1075.




ELROY R. C. SMITH and the HOTT VAN BERMUDA INDUSTRIAL UNION BUILDING
OPENING DAY -- July 5, 2004 New home of HOTT1075

I remember being completely numb and washed out while all this was going on. It was exciting to watch it happen, but the work we had endured to complete the buildout in time for the scheduled launch date was exhausting. It may have been the first day of Bermuda's new radio station, but for me it was the culmination of three months of intense preparation and grueling work.
In late March, I had received an email from an old friend, Elroy R. C. Smith. Elroy is a well-respected and highly successful programmer in Chicago for Clear Channel's WGCI. We had worked together in the '80's at Boston's legendary WILD, pulling 3-shares in the Boston metro with a 4,000 Watt AM daytimer.
When Elroy told me that he was building a new radio station in his home town, I said, "Elroy, you only get to do this once in your life. You've got to let me be a part of it."
Then he described the aggressive buildout schedule: on the air on July 5th! What had I gotten myself into?
There were many obstacles to overcome along the way. Tower space agreement, antenna system design, equipment list discussions, vendor selection, details of shipping equipment to an international destination, freight forwarder selection, the details were endless.
Steve Vanni at Technet Systems Group faced the challenge of getting all the equipment to SeaVentures in New Jersey by 5 PM on June 23rd so that the freight container could make the June 25th sailing and arrive in Bermuda on June 28th. Allowing two days to clear Bermuda Customs, that gave us four days to build this puppy. There wasn't time to worry that we were missing something, we were working too hard to worry.
Working with the Bermudan government was a wonderful experience. Customs, Immigration, Telecommunications, Police and Fire Department officials were among the most professional, dedicated and detail oriented folks I've ever worked with.
Nothing was left to chance. Every phase of the process was "by the book", which can be translated as "time consuming", but I was pleased to realize that every procedure had a purpose, and that following through on all the procedures was going to result in a better facility.
On the morning of the last day the freight forwarder could accept shipments to place in the freight container, the FM antenna and the STL equipment were still in transit. The antenna arrived an hour before the doors closed. When the container sailed, 10% of the equipment was not inside. At the last minute, late shipments were redirected to Radio Systems, who included these items with the consoles and shipped them in by airfreight.
Now it gets interesting. As the container was sailing, I got word that the tower owner with whom we'd contracted had realized that he didn't actually own the tower, and so couldn't give us permission to use it. I immediately flew in to have talks with the Bermuda Police Department to see if we could share space on their tower nearby. I provided loading specifications for an urgent structural analysis to George Mensah, the Police Department's Communications Manager.
June 30th came, and the results weren't back. I realized that if I stayed in the states and waited until results were received, I'd lose a day and there'd be no way to finish on time. So, on faith, I flew in.
On July 1st at about 1:30 PM, George called and said, "Your antenna is just a bit too heavy for our tower, so I think you'll have to find someplace else."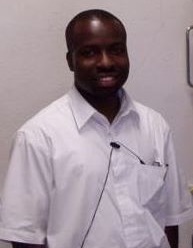 GEORGE MENSAH, Bermuda Police M.P. GLENN BLAKENEY GRADY MOATES HIRAM EDWARDS
Funny guy CEO of IIC Asst. Director
Bermuda Ministry
of Telecommunications

Hah hah hah
After a 20 second pause, he said, "I was just kidding! It's fine! When do you want to start?"
After some cursing and good-natured name-calling, they handed me the phone. George's first words to me were "You're not angry with me for playing that joke are you?"
I replied, "George, you only get a chance like that a few times in life. You've gotta go for the laughs!"
Chris Loycano at Broadcast Tower Service (BTS) was holding their schedule open in case approval came, and they booked their flights for the next morning.
On July 2nd, "It was a dark and stormy morning." The mother of all electrical storms was sweeping across the eastern seaboard and out over Bermuda. Three of my client stations in Boston had problems at various times that morning, but Paul Andrews graciously helped out.
Just as the jet carrying my tower crew landed, the clouds drifted away, and the sun broke through. All looked cheery and bright.
An hour passed. No tower crew. Finally, my cell phone rang. Immigration doesn't have the right paperwork. We've got about 2 hours to get properly issued work permits (instead of business letters), or the guys go back on the plane they came in on.
The storm had taken down cell-to-cell wireless service, and I couldn't reach any station management folks on their cell phones. My PDA had just died due to a leaking battery. I found myself sitting on a sidewalk outside the airport, next to Immigration's little intercom speaker in a beige concrete wall, booting my laptop to try to get a landline number for someone who could call someone else who could deal with this latest crisis.
Under these fresh, clear skies I thought I heard someone crying. I think it was me.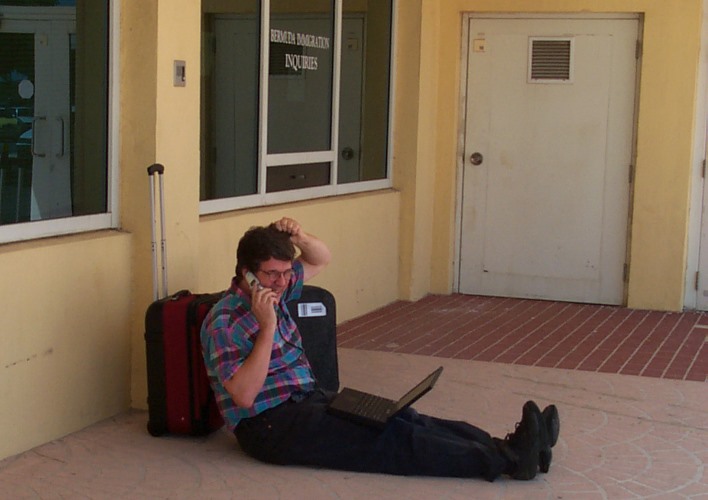 I THOUGHT MY LIFE WAS OVER
(this is a re-enactment of the original scene) (c;

Just in time
The station studio is in the Bermuda Industrial Union building in Hamilton. The transmitter is about two miles to the south-southeast on top of the tallest hill on the island, a place called Fort Prospect.
By 3:00 PM, we had our riggers at the tower, Customs had released our equipment shipment, and a truck was bringing it to the site. By sundown the antenna, STL dish and coaxes were on the tower, on the ice bridge and into the building.
Saturday morning we assembled the transmitter and other rack equipment, dressed all the cables, connected it all up, and had good matches on both antenna systems. At noon, just as the riggers were packing up to fly home, the rain resumed.




CHRIS LOYCANO, JOE DERNIER and JOE WALSH EQUIPMENT RACK A LONG DAY'S WORK DONE
Broadcast Tower Service at work BE FM-3C -- Lookin' Good! The Joes climbin' down

By Sunday afternoon at 5:00 we had a complete system working. Brad Golden's Prophet Systems computer was playing sound through the temporary studio wired by Skipi Comeau, and we turned it on for a quick test. The Broadcast Electronics FM3C transmitter and the Shively 6513 antenna supplied a rock solid signal at both ends of the island. Everyone rejoiced. The first two songs played on Hott1075 were "Truth" and "Sweet", from the new Todd Rundgren CD LIARS.
Hiram Edwards, The Assistant Director of the Bermuda Ministry of Telecommunications, met us at the transmitter site for the required governmental inspection on Monday morning, and by noon he had granted Program Test Authority. Hiram was especially complimentary as he inspected the tower work. BTS does a great job.
We used a Moseley SL90034-2S, feeding linear digital AES/EBU at 44.1 kHz. The station is 100% digital from the input to the audio processing at the studio all the way to the listener's antenna. The BE FXi-250 exciter generates the entire FM carrier+stereo program on carrier in DSP.
In December, I'll upgrade the Radio Systems consoles to digital, and we'll be all digital, music to listeners.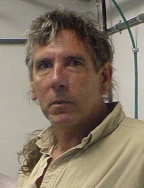 SKIPI COMEAU BRAD GOLDEN First Day Program Source
Looking Shell-shocked During a Break Looking Hungry During a Break "Look, Ma, No Studio!"

Looking back now, all the dominoes seem to have fallen over "just in time." It feels good to have been the organizer of this minor miracle, and I thank all those who had a hand in this success.



NOW, WHERE'S THAT PINA COLADA YOU PROMISED ME?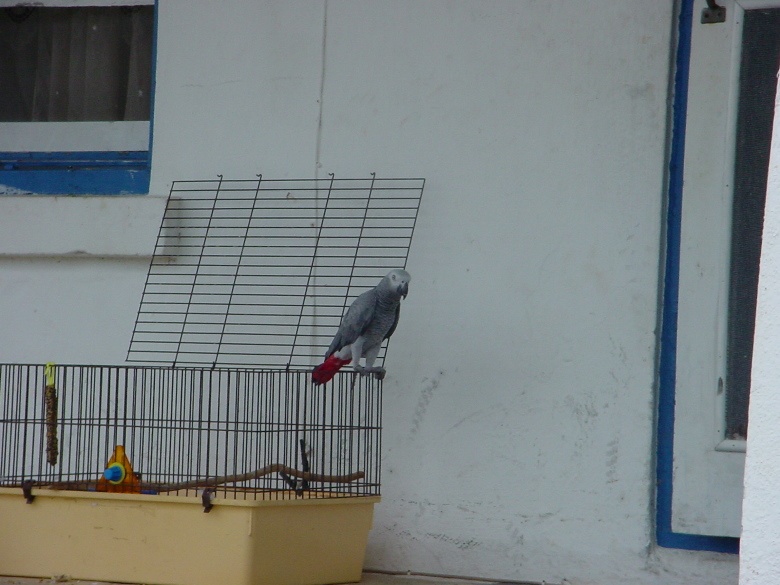 Our Project Supervisor kept a close eye on everything we did



THE STAFF OF HOTT1075 AT THEIR FIRST BIG PROMOTION
Named "The Bermuda Idol Competition" and drawing a sellout crowd, 16 local performers sang songs and a winner was chosen. The winner received a free recording session, with a famous producer. Bermuda Cablevision did a 3-camera live shoot of the 2-hour event and made it available on pay-per-view. It was so popular that cablevision had to re-run it several weeks after the event.

Back to LOUD & Clean